Profile

Vedananda
If not for me, then do it for the World.
This journal should be viewed with discretion.
Free Account
Created on 2012-04-15 19:15:22 (#1600334), last updated 2013-05-24 (226 weeks ago)
49 comments received, 28 comments posted
70 Journal Entries, 140 Tags, 0 Memories, 78 Icons

About

Mini Bio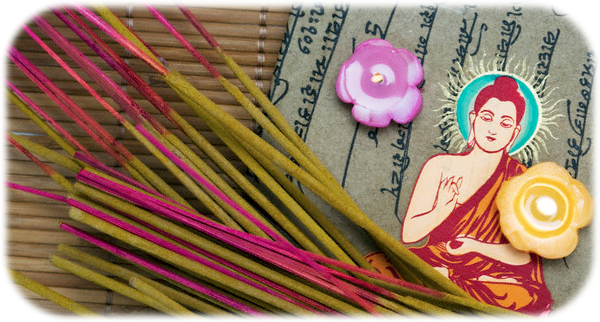 Namaste. My name's Mikaela and I'm a 33-year-old woman who lives in the United States. This is not my daily DW. You can find that at

fonetiks. As with this journal, please read the user information on that one prior to trying to add it. Thank you.
This journal is being kept as a record of my spiritual journey. It is also a journey of the Self and of self-realization. It is an intensely personal space, for which reason I likely will not add anyone I do not already know. That said, you're more than welcome to add me and I will look at your DW and see if I am comfortable with adding you back to this journal. Please, please, PLEASE do not be offended if I'm not. It is truly nothing personal toward you, but for my own sense of privacy and security as I go on this journey.
My beliefs and religion are Hindu, though I am accepting of all belief systems (and lack thereof). What I do ask is that you not preach to me, should you not agree with my own beliefs. I will, likewise, not preach at you. I know the Bible very well and have no issues with it. I think it is important. I will not, however, have your dogma thrust down my throat simply because you believe your way of connecting to God to be somehow superior to my own. I do not believe one is superior to the other. Please do not add me if you practice religious intolerance, racism, homophobia, trans*phobia, or prejudice of any sort. You won't find it here and I don't want to see it. It's needless. And that really is all I ask.
On a more personal note, I have chosen celibacy. I do not, in any way, believe this is for everyone. I believe sex to be natural and healthy. So no worries. lol I curse a bit. I try to keep it out of this journal, but it might creep in. If that bothers you, don't add me. I have a rotten sense of humor. I can find most anything funny. It's how I deal. I am brutally honest to a fault. It tends to offend people sometimes. I do it out of respect because I expect honesty in return. If you're looking for someone to sugar-coat things, I'm not your gal. Anything else you may need to know will likely be brought up at some point in this journal but feels too personal to have out in the open. So, this is me. Namaste.




Connect
ananda
,
aromatherapy
,
asana
,
ayurveda
,
bhagavad gita
,
bhakti
,
celibacy
, dharana,
dharma
,
dhyana
,
durga
,
friendship
,
ganesh
,
ganesha
,
god
,
hanuman
,
hatha
,
hindi
,
hinduism
,
honesty
,
india
,
jewelry making
, jnana,
journal making
,
kali
,
karma
,
krishna
,
krishna das
, kriya,
lakshmi
,
learning
,
love
,
mahatma gandhi
,
maya
,
meditation
, mohandas gandhi,
monasticism
,
music
, niyama, om namah shivaya,
origami
,
painting
, paramahansa yogananda,
peace
,
pranayama
, pratyahara,
prayer
,
raja
,
rudra
, samadi,
sanskrit
,
sculpting
, self-realization fellowship,
service
,
shakti
,
shanti
,
shiva
, swarg,
the upanishads
, the vedas,
truth
,
veda
,
vishnu
,
wisdom
,
writing
,
yama
,
yoga
, yogini

People
[View Entries]

Communities
[View entries]

Member Of (4):

Subscriptions (6):

Administrator Of (0)

Feeds
[View Entries]

Subscriptions (0)

Linking
To link to this user, copy this code:
On Dreamwidth:
Elsewhere: